House of Lords calls for an internet Super Regulator.
The tech pages have been awash with stories documenting the failure of big tech firms to adequately control their content and the responsible use of our data. A recent report commissioned by The House of Lords has called for the creation of a digital super-regulator; a committee which will oversee those bodies charged with safeguarding the internet. It will replace the current system of self-regulation by big technology companies.
The current model has come under criticism. Presently, there are more than 12 regulatory bodies all designed to monitor the digital landscape. However, it is clear that this patchwork is failing; a disharmonious medley of gaps and overlaps. A case of too many cooks, maybe?!
In essence, the Lord's communications committee report has highlighted that big tech giants are failing to adequately tackle online risks, and held harsh words for the likes of Facebook, Google and Amazon.
The chair of the committee, Lord Gilbert of Panteg remarked that "Self-regulation by online platforms is clearly failing and the current regulatory framework is out of date". He went on to say that "The evidence we heard made a compelling and urgent case for a new approach to regulation".
The concern goes beyond content, however. It is believed that without adequate regulation, large tech companies are likely to gain even more control over the technologies that extract our personal data, and as such make decisions which affect our personal lives.
If created, The Digital Authority would be guided by a charter of 10 basic principles. In short though, it would demand that the internet should be ruled by parity and transparency. It should be an environment where big companies are held accountable; one where the most powerful are open to scrutiny. It also calls for more user protection. It suggests that as citizens we should expect as much protection online as we have offline. It also highlights the need to protect the most vulnerable members of society. Particular emphasis was placed on the responsibility to "recognise childhood".
The main role of the authority would be one of oversight. It would allow existing regulators; Ofcom, The ICO and the Advertising Standards Authority etc to continue their work whilst keeping a watchful eye across the full spectrum of regulation. The authority would suggest new legislation where there are gaps and mediate where there are overlaps. It would also be required to report periodically to parliament upon the state of the regulation of the internet.
Whether or not the digital authority is created in the end remains to be seen. However, the report also recommends a number of changes which it believes ought to happen regardless. These include changes regarding consent over how our data is used and giving new powers to the ICO to audit technology companies' use of algorithms in decision making. Additionally, it recommends that Ofcom's remit should be expanded to include responsibility for enforcing a duty of care on big tech companies.
It also called for services to default to the strictest privacy and safety settings; requiring us to disable rather than enable these.
Just a quick sweep across the tech news pages this week tells us that internet regulation is hot on the lips of policy makers both here and across the Atlantic. What do you think about the idea of a super-regulator? Do you enjoy the free-for-all nature of the internet or do you agree that a more robust monitoring system needs to be implemented? We'd love to hear what you think. Leave your comments below!
British higher education institutions are becoming more aware that they could be home to the next wave of tech giants. These are the thoughts of former Google CFO, Patrick Pichette. Pichette suggests that university researchers here in the UK could be the next billionaires of tech.
He suggests that there has been a shift toward recognising that universities need to "support academic researchers that have a real shot at commercialisation".
Putting his money where his mouth is, Pichette has launched a new startup incubator; one designed to help coach these academics through setting up their own businesses.
The Creative Destruction Lab (CDL) will support around 25 early-stage companies from across the UK and Europe who will be cherry-picked to be part of the mentorship programme. It already operates at five universities across the US and Canada, including the eminent NYU Stern School of Business.
The first UK cohort will begin in September.
Mr Pichette went on to disclose that the incubator will be a "platform for the best university research programmes to…..have two types of support"
One part will be commercial support, where business ideas are nurtured and developed. The second arm of the programme will focus on finance. It aims to allow researchers access to operators, business builders and venture capitalists. This tandem approach will give these entrepreneurial researchers a route into funding, and in turn, facilitate the development of ideas into reality.
This format is based upon Pichette's experiences and his time in the US. It encourages the idea that commerciality and academia could, and should, go hand in hand. He goes on to remark that "if you go to Stanford University and you're a professor, everybody will look at you strangely if you don't have a startup or two."
It is our guess that applications to the scheme will come thick and fast. Ignite Digital HQ is based at the heart of Bristol's vibrant digital quarter. We are a stone's throw away from a tech and digital incubator ourselves. We have seen first hand the opportunities afforded to these lucky, chosen few. The UK has long been known to be a hotbed of tech and digital talent. It is exciting to consider how our tech scene could grow if an entrepreneurial spirit can be coupled with the brightest of minds.
Watch this space!
KPMG's 2019 Technology Hubs Innovation Report is a global analysis of 740 business tech executives from tech companies, venture capital firms and angel investors that focus on technology. The findings of the report have been published this week and have placed the UK third in a ranking of countries expected to produce the most disruptive technologies.
We fall into bronze position, only trailing behind the formidable tech superpowers of the US and China.
Last year, the same report ranked the UK and Japan as joint fourth. This year Japan retain the fourth spot, while Singapore comes in fifth. India has dropped from third place to sixth.
The report also highlighted that London was held in high regard by these industry leaders. Respondents were asked to consider where the next wave of tech innovation might come from outside Silicon Valley. Our capital was awarded the third spot, sharing the title with Tokyo. New York was awarded the top spot, while Beijing was awarded the silver medal.
If the results of the report are to be believed, it would appear that Silicon Valley may have rivals to its dominance. Indeed, 60% of respondents offered that it is either 'likely' or 'very likely' that the tech innovation centre of the world would move away from sunny California by 2023.
Commenting upon the results of the reports, the UK head of TMT at KPMG Ian West said;
"It is great that the UK's technology sector is appreciated as the most promising market for technology breakthroughs in Europe, and that London is seen as a major hub for big data, fintech and a variety of digital technologies". He goes on to say that "technology underpins the competitiveness and development of almost every sector", and that "it is a key battleground for most economies and the UK must ensure it is a leader in this field"
Over the course of 2018, more than $7.7bn was invested in UK startups. Robotics, autonomous vehicle technology and artificial intelligence were the areas which enjoyed the highest levels of investment.
This was more than 1.5 times the level invested in fast-growth businesses in Germany, and 2.6 times the levels of investment seen by the startup ecosystem in France.
These levels of investment are viewed by Mr West to be the springboard into innovation. He remarks that these numbers will make a "real difference to the UK" and will enable it to be "seen as a tech destination of choice for scientists, entrepreneurs, investors and tech companies".
It is warming to know that despite a distinct period of political instability, the UK and London in particular, are still viewed as secure options for tech companies from across the globe. It is certainly our experience that London based startups have not slowed their efforts to grow their teams.
If you are a tech or digital professional looking to move on to your next challenge, we would love to help. Get in touch with us today!
Microsoft AI revolutionises photographic imagery for blind users
.
Microsoft's 'Seeing AI' is an app which allows visually impaired users to convert visual data into audio feedback. This week, Microsoft has updated Seeing with a useful new feature. Users are now able to use touch to explore both the people and the objects captured in a photo.
'Seeing AI' lead Saqib Shaikh explains;
"This new feature enables users to tap their finger to an image on a touch-screen to hear a description of objects within an image and the spatial relationship between them". Remarkably, the app can also describe the physical appearance of people and predict their mood.
Of course, the app itself is powered by machine learning. All the user would need to do is take a photo or open one up in the viewer and tap anywhere on it.
The same update allows users to tap around on the image and find out where things are in relation to one another. Other details that may not have been included in the original description may also appear in this new version. For example; the latest description may include those yellow tulips in the foreground or the poster for the latest film release on the bus stop in the background. There have also been updates which have improved the interface; users can now order images according to preference.
Not only this. The app now natively supports Apple's iPad. Particularly useful when it is considered that so many of us use the tablet as our primary route into media and social interactions.
Seeing AI is free. If you want to have a go, download the latest iOS edition here.
Jumia is a Nigeria based e-commerce company. This week it has been reported that they are set to become the first African startup to feature on the New York Stock Exchange.
The company was given a $1bn valuation back in 2016. It offers a range of online goods and has recently expanded its portfolio to include food delivery, hotel and flight booking and mobile tariffs. It is reported that Jumia could go public as soon as next month.
The close of 2018 saw Jumia able to boast users of over 4 million active consumers. Currently, it offers its services to the majority of the African population. Customers span the continent, ranging from locations as diverse as Eygpt and South Africa.
As is to be expected, the listing of an African startup has been welcomed. Senegalese businesswoman Marieme Jamme has commented that although this is a positive step forward, there were still challenges ahead.
She cites the lack of a technical infrastructure to be the primary issue, and remarks "it is difficult to get a parcel from Senegal to Rwanda". She believes that there are also issues surrounding logistics and the supply chain.
It would be an understatement to say that Amazon and Alibaba are global leaders when it comes to e-commerce. However, neither of these superpowers have managed to make considerable headway into the African market. The reasons for this are threefold. The lack of infrastructure poses a problem, as does the fact that across vast swathes of Africa, there is a distinct lack of postcodes. Not only this. Many African citizens do not have bank accounts or debit and credit cards – something which these e-commerce platforms rely upon to succeed. BBC Africa Business Editor Larry Madowo is of the belief that it is the fact that Jumia facilitates mobile money payments to be its main selling point.
At the time of writing, no valuation or share price has been given. There is speculation however that Jumia could be valued at $1.5 bn, despite the fact that it reported a loss of €170m throughout 2018.
We mentioned earlier that 60 per cent of industry big minds believe that the future of tech innovation lies beyond the rolling hills of Silicon Valley. Although no African location made it onto the list, the fact that Jumia looks set to make it onto a major stock exchange has been noted by many to be a major breakthrough in the evolution of the African tech scene.
Elizabeth Warren vows to break up Tech giants
.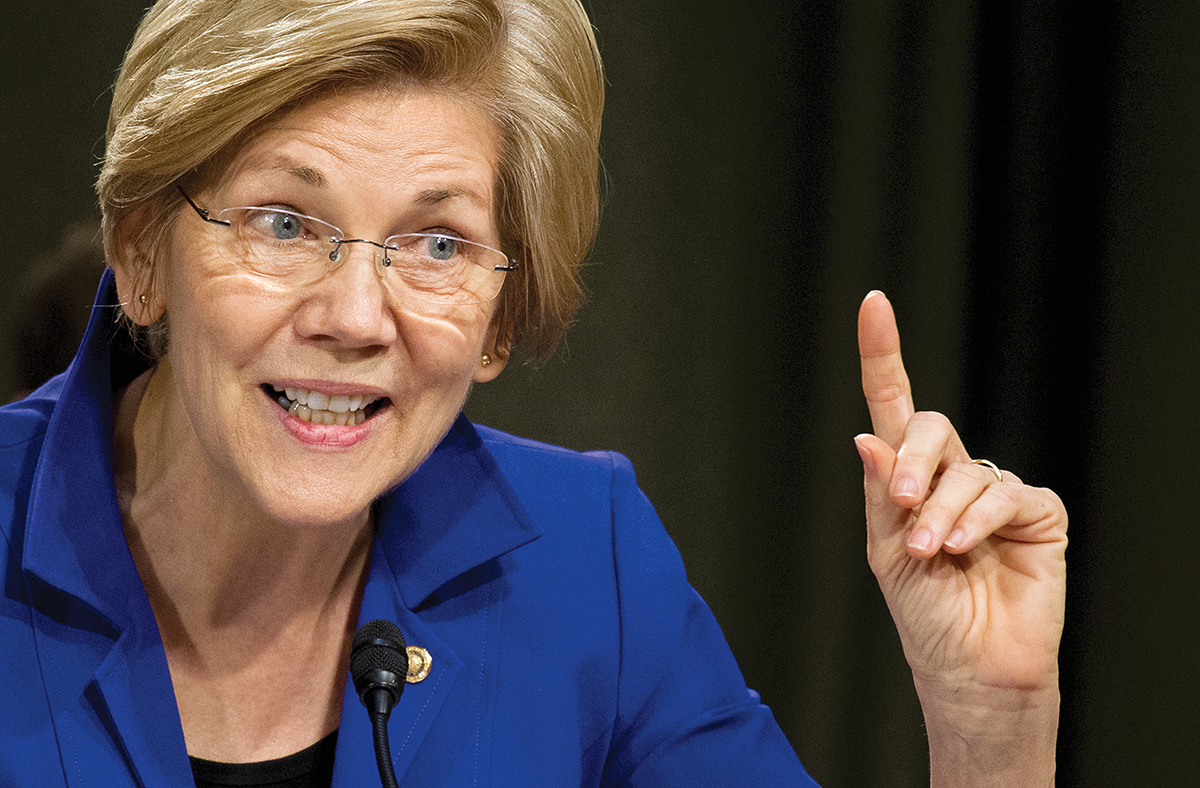 Reports from the BBC and tech publication, The Verge have informed us this week that US Democrat Elizabeth Warren has proposed to break up large tech giants if she were to be elected as US president in 2020.
Her plan would include the reversal of some huge tech mergers and would prohibit companies from being able to compete on their own platforms. Here she refers to some big Silicon Valley names such as Google, Facebook and Apple.
Ms Warren pinpoints the Amazon acquisition of Whole Foods as one she would reverse. She also highlights Facebook's merger with Instagram and Whatsapp as one that could be dangerous. Sick of "freeloading billionaires", she has also targetted Apple if she were to be successful.
She believes that to control big business practice would promote competition and safeguard small enterprise.
Perhaps proving her point about the dominance of big tech, it was reported on Monday that Facebook had removed a series of Warren's Ads about the dissolution of tech giants. Facebook have since re-instated them, however.
The ads targeted tech companies like Amazon, Google and Facebook and were placed after Warren announced her plans. The ad itself read ;
"Three companies have vast power over our economy and our democracy. Facebook, Amazon, and Google". They went on to say; "We all use them. But in their rise to power, they've bulldozed competition, used our private information for profit, and tilted the playing field in their favour".
In a war of words, Facebook defended its decision to remove the ads. A spokesperson from the social networking platform commented that "this ad was taken down because it goes against Facebook's advertising policies''; the ads that were taken down were identical and used the same images and text in each one.
In response to Facebook's remarks, Ms Warren tweeted;
"Curious why I think FB has too much power? Let's start with their ability to shut down a debate over whether FB has too much power. Thanks for restoring my posts. But I want a social media marketplace that isn't dominated by a single censor. #BreakUpBigTech''.
If Ms Warren's intention was to stand out in a crowded Democratic field then she has succeeded. The comments she has made with regards to the influences of big tech companies have certainly made considerable noise this week. To a degree, they have also been echoed here in the UK. We have already mentioned The House Of Lords' stance upon internet regulation, and in particular how large tech companies use our data and how they police content.
This is going to be a debate which will run and run; both as part of Elizabeth Warren's election campaign, the wider implications of big tech and the role it plays in all our lives. It will be one that we shall watch with open eyes.